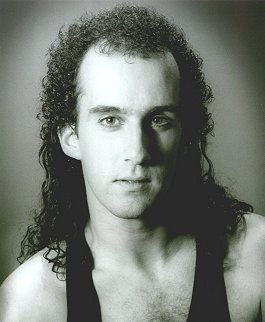 Hey look, it's John Rice!
Yup, that's me and this is my web site. This page is a link to what I was and what I am and what I will be and possibly what I shouldn't be but might be anyway. It will have pictures of me and machines and people and animals and drawings and even some stuff that I'm afraid to put my lips on. It will have poems and lyrics and short stories and discussions and maybe a recipe for chunky corn divinity, a Halloween favorite. I've done lots of music things and artsy things and computer things and electronic things and ate a lot of things and have even been nibbled on a few times myself. So that's about what you can expect to see on this site. To sum it up, one of the first ever responses that I received on the internet was "John, you're an idiot." signed The Worlds Greatest Drummer. So there you have it. ( of course the joke is on him, the proper spelling is 'eedeeot' ) Enjoy, JLR
---
Music That I've Been Involved With :


The Band ROOK
High Energy Scottish / Celtic / Rock!


The Makedonians Semi Official Web Site
Local Balkan Folk / Folklore / Folk Fusion Band


The Balance Web Site
Local rock / progressive rock band that made great music in the early '90s


The Theatre Web Site
Local wailing progressive rock band that made great music in the early to mid '80s . . . . "The band you wish you were!"
---
Music I Like :


The Unofficial Praise Tribute Web Site
An excellent and unique band that never toured and did one album that is now out of print
---
Recording Engineering :
A Small Floated Floor Project
A description of how and why I built a small 'floated' floor in my project studio.
---
Poems, Lyrics, Short Stories, Essays :
'Roses are red, violets are blue, some poems rhyme, but this one doesn't.' - Anonymous
( OK, I'll put some of my own stuff here . . . . . someday . . . . . . . )
---
Computer Stuff :


Ib Consulting's Web Site
My personal consulting company.


The Control Systems, Inc. Web Site
Shipping, Receiving, EDI, Hardware, Software, Networking, etc. . . . . oh yeah, I work there.
---
Acting Stuff :
( coming soon, content someday . . . . )
---
Resumes :
Musician Related
Computer Related
Acting Related
( I'll have to get around to these someday too . . . . . )
---
My Vehicles :
1986 Toyota 4x4
1979 Chevy LUV
---
Links :
( no . . . not sausage )
---
The Usual Web Site Stuff :